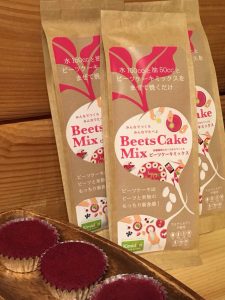 Want to have more fun while you bake? Want to eat cake, but still be healthy?
We would like to introduce to you our BeetsCakeMix. Make beautiful red cupcakes in no time at all and free of refined sugars, artificial colours, flavours, or preservatives.
For those with allergies or concerns, we want you to join in the fun too, so we make all our BeetsCakeMix free of eggs, milk products, flour, buckwheat, or peanuts. All it contains is 100% naturally farmed rice powder, organic beets, beet sugar, salt, and aluminum-free baking powder. It is also gluten free!
Our BeetsCakeMix is also a good choice for children of all ages, because the sweetness of the cake mainly relies on natural sugars found in both the rice and beets, making it a healthier option than cake mixes made with loads of refined sugars. As for those with a bigger sweet tooth, extra sugar can always be added for extra sweetness.
All you have to do is…
1. Preheat oven to 350F (180C), and line a muffin tin with papers.
2. Mix one package of BeetssCakeMix with 50cc of vegetable oil (such as canola oil, olive oil, or coconut oil) and 150cc of water (or substitute with milk, soy milk, or almond milk).
3. Put a small amount in each muffin paper.
4. Bake for about 20min.
*One package of BeetsCakeMix will make approximately 12~15 small cupcakes
BeetsCakeMix changes colour every time you add an ingredient, just like magic!* You have to see it to believe it! Behold the beauty of organic vegetables grown in a healthy garden with the care and loving of generations of beet farmers!
Perfect for baking in small batches for your family, gatherings, and parties, or make the whole package for a special occasion! You can also add nuts and/or dried fruit, and this little red cake also pairs well very well with chocolate. BeetsCakeMix can also be used to make Red Velvet cake and it's super easy!
We hope you enjoy this cake with somebody you love! Or all by yourself!
※available for purchase in Japan only
* Due to the pigment composition of beets, the cake browns or changes colour when it is mixed with strong alkalines.